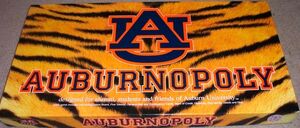 Auburn-opoly (also Auburnopoly) is a Late for the Sky "College Series" version of the classic boardgame published in 2003 and featuring Alabama's Auburn University.
This edition was released in two distinct versions; one hyphenated and the other one not, but both are still essentially the same.
Publisher's Description
"This is the Auburn University themed version of Monopoly. Unique properties include Toomer's Corner, Jordan Hare Stadium, and Samford Hall. Houses and Hotels are replaced by Credit Hours and Diplomas."
Gallery