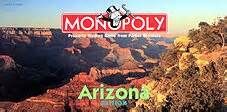 Monopoly: Arizona Edition is a version of the classic boardgame published by USAopoly in 1998 and featuring locations and monuments in the U.S. State of Arizona.
Publisher's Description
"The dramatic landscape, extraordinary ancient artifacts, unusual wildlife and phenomenal wonders of nature form the backdrop of "The Grand Canyon State." The Monopoly Brand proudly introduces a game for everyone who treasures America's 48th state."
"Long-time residents and tourists alike will marvel at Arizona's striking natural resources, captured in vivid, color photography. From barren deserts and rugged badlands to dynamic mountain ranges and mighty rivers – you will experience the sheer beauty that has captivated inhabitants for centuries. Nature has carved indelible and glorious marks across Arizona's varied terrain. And, the harsh elements that challenged early tribal dwellers helped create the distinctive native cultures still admired today."
"Enjoy Arizona's spectacular offerings as you buy, sell and trade to own all of her natural assets in classic Monopoly Game fashion. Grab your family, friends and any itinerant snowbirds and play the Arizona edition of the world's most famous board game."
Gallery