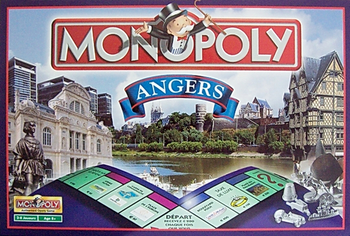 Monopoly: Angers Edition is a French-language licensed version of the classic boardgame published by Winning Moves Games in 2002 and featuring the city of Angers, France.
Publisher's Description
"Once the capital of the Gallic tribe of the Andes called "City of Andécaves" the city then takes the name of Juliomagus. Alternately, Coots, the Plantagenoîts, the Capetians and Valois finally govern the city."
"Angers hosted some of the great figures in the history of France as Plantagenoîts, King René François Rabelais, or Joachim du Bellay . Castle houses the famous Apocalypse tapestry."
"Today, Angers is distinguished as much by its rich heritage through its Economic and cultural dynamism. The presence of large industrial groups and a large number of SMEs give the city an identity of industrial and tertiary city. The Angevin Economy is based on five major divisions: Electronics / computer equipment for the automotive, insurance and welfare and plant health sector. Two universities and Grandes Ecoles promote links between education and economy. At half past one of Paris by TGV, related to European cities with its new airport business, Angers is consistently ranked in the first places of the charts of the press for the quality of their living environment and its industrial dynamism."
"Finally, Angers enjoys a global prestige in being the gateway to the Loire Valley, recently recognized by UNESCO World Heritage Site."