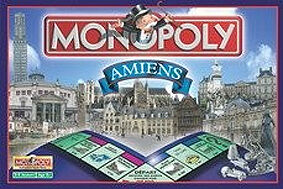 Monopoly: Amiens Edition is a Winning Moves Games version of the classic Monopoly boardgame published in 2002 and themed on the city of Amiens, France.
Publisher's Description
"City of Jules Verne, Amiens is famous for its cathedral, the "Parthenon of Gothic" elevated to fifty largest open heads of humanity."
"Famous also for its floating gardens, real floating gardens, Amiens is crossed by many channels in the picturesque district of Saint-Leu."
"County town of Somme and Picardy region, city spans multiple arms of the Somme and its agglomeration total 220,000 inhabitants. Rich agricultural region, Amiens has offset the collapse of the textile industry by becoming a hub for automobile subcontracting."
"It commemorated with pomp in March 2002 peace treaty that ended the war between France and other major European powers. With the University of Picardie Jules Verne, it shows a real dynamism."
Gallery