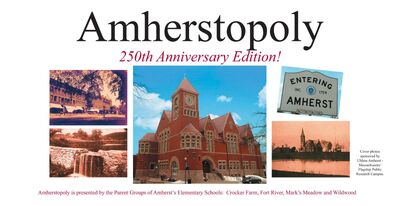 Amherstopoly is a limited edition version of the classic Monopoly game featuring the 250th anniversary of the town of Amherst, Massachusetts.
Press Release
"Ever dream of buying Crocker Farm or Hastings? Well, your chance is finally here! Amherstopoly, the fantastic board game that is all about Amherst and its most beloved haunts has arrived just in time celebrate the Town's 250th Anniversary."
"It was created by a team of parents from all 4 of the elementary schools and has been sponsored by dozens of businesses and organizations throughout the town. We are expecting that sales of the game will generate an incredible $28,000 in profit (to be split equally among the 4 schools)."
Board