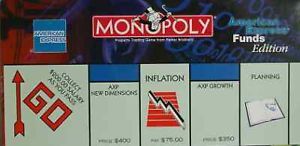 Monopoly: American Express Funds Edition is a corporate version of the classic boardgame published by USAopoly in 2000.
Publisher's Description
"For nearly six decades, American Express Funds has provided investors with some of the best investments the financial markets have to offer. In fact, we were among the first companies to offer mutual funds - long before they became popular."
"In 1940, we launched Investors Mutual, one of 60 funds available at that time to U.S. investors. By the mid-1960's, it was the largest stock and bond mutual fund in the world and is now known as AXP Mutual."
"With 44 funds totaling more than $100 billion in assets, American Express Funds is among the largest U.S. fund families, with offices in Minneapolis, Hong Kong, London, Singapore and Tokyo."
Gallery