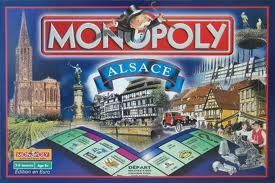 Monopoly: Alsace Edition is a French-language version of the classic boardgame featuring the French region of Alsace. It was published by Winning Moves in 2002.
Publisher's Description
"Alsace is the heir of a rich history that has always given it an international outlook throughout 10 imperial cities, the Thirty Years War, the Industrial Revolution, and various other influences; history is revealed in the towns and villages, from the streets with medieval half-timbered houses and window boxes, to the churches and fountains in the squares."
"Naturally, tourism has become one of the major strengths of the region: cathedrals, castles, museums of all kinds, houses on river banks, traditional and rich vineyards lie within 170 km in the relative countryside. Gastronomy delights both the traveler and the Alsatians. As a Central European region, it is home to the European Parliament in Strasbourg."
"A long industrial tradition, research centers and universities that promote strong cultural activities of high quality, provide economic prominence to "la belle province"."