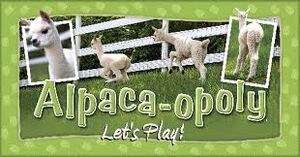 Alpaca-opoly is an unlicensed version of the classic Monopoly published by Clark Summit Alpacas, LLC in 2009.
Publisher's Description
"Alpaca-opoly is a custom-crafted game that allows players to immerse themselves in the wonderful world of alpacas. As players travel around the game board, they will have the opportunity to purchase alpacas, land, farm equipment, and other necessities they might need to start their own successful alpaca operation.
"In addition to being fun to play, Alpaca-opoly also includes educational information about the alpaca lifestyle. Each certificate of ownership introduces interesting tidbits including information on the alpaca's basic needs and care, the various types of alpaca shows, and their renewable crop, the fleece."
Gallery