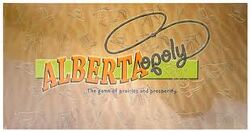 Alberta-opoly is the Late for the Sky version of the classic Monopoly game featuring the province of Alberta, Canada.
Description
The game of prairies and prosperity. Alberta holds one of the strongest economies in North America, making it a province that anyone would love to own. And now anyone can with Alberta-opoly.
No other province offers such a varied and diverse landscape, where the Rocky Mountains meet the prairies. Home to North America's largest shopping complex (West Edmonton Mall), Canada's largest mountain national park (Jasper), and the world's largest Tyrannosaurus Rex (Drumheller)…there is no shortage of size in this bustling land of natural resources and breathtaking views.
Alberta-opoly was created with the help of Alberta natives. We asked Albertans what makes this place so great. While it's impossible to include everything, Alberta-opoly hits the highlights. Advertising space was not for sale on this game. The board includes authentic landmarks only.
The game is full of buffalo, crops, and parks. This game is about Alberta! So choose your token and roll the dice. Who knows? You may be the new owner of Dinosaur Provincial Park… or meet aliens at the province's UFO landing pad! Are you looking for a fun way to experience Alberta? Voila…behold; here it is!