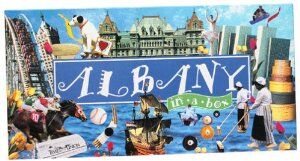 A 1998 Monopoly clone from Late for the Sky featuring the city of Albany, New York.
It has spaces such as Tulip Festival, Nipper, Great Escape Fun Park, Lark Street, Pepsi Arena, Empire State Plaza, and Cranberry Bog.
The tokens include a pretzel, heart, trolley, sailboat, ski, and wooden shoe.
Cards include local events and staples of life in Albany.
Gallery