For the edition about the sport in Alaska (also from USAopoly), see Monopoly: Alaska's Iditarod Edition.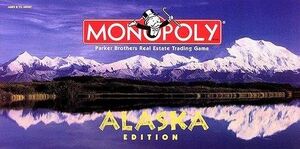 Monopoly: Alaska Edition is a 1998 version of the classic boardgame published by USAopoly and featuring the beauty and grandeur of the 49th State.
Publisher's Description
"Advance to GO! The Monopoly Brand introduces the Alaska Edition showcasing "The Great Land." With more land in national parks, wilderness areas and national wildlife refuges than all other states combined, Alaska's magnificent real estate and natural assets hold a magical allure. Now you can buy, sell and trade the state's foremost properties in this unique edition of the world's most consummate real estate game."
"As you travel around the Monopoly board, you'll experience the incredible variety of Alaska's natural wonders. The last frontier showcases awesome mountain ranges with their ice fields and glaciers, dramatic fjords, and majestic forests, lakes and streams. Brimming with activity, the five regions offer a rich cornucopia of natural wildlife. Over 400 species roam the great expanses of land, sea and air."
"Alaska's world-famous northern lights offer one of nature's most inspiring sights. Our pioneer spirit is awakened. Bordering two oceans and three seas, the Land of the Midnight Sun is the ultimate destination for 21st century adventurers... and real estate tycoons. With the Alaska Edition of the Monopoly Game, the 49th state has never been more accessible."
Gallery