For the edition about the state (also from USAopoly), see Monopoly: Alaska Edition.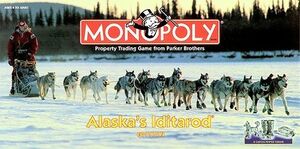 Monopoly: Alaska's Iditarod Edition is a version of the classic boardgame celebrating the famed Iditarod Trail Sled Dog Race of Alaska, released in 1999 by USAopoly.
Distribuitor's Description
"Proving that there is no topic that can't be turned into a Monopoly game, Alaska's Iditarod has players buying, selling and trading various towns and landmarks along the course of the world-famous dog-sled race. The set comes with special collector tokens including: Dog Sled, Dog, Ski Plane, Head Lamp, Lantern, Boots, Bull Moose and Mittens."
Gallery