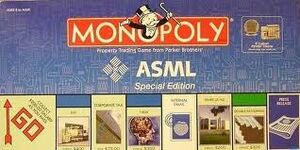 Monopoly: ASML Edition is a limited ("special") edition published by USAopoly in 2007, themed around the Dutch microcircuitry company ASML Holding. It was created as a Christmes gift for the employees of the company.
Publisher's Description
"ASML wishes you and your family happy holidays in 2007, and a great 2008! We have created this ASML Special Edition of the popular boardgame, MONOPOLY, as a gift to ASML employees and their families this holiday season."
External Links
Gallery