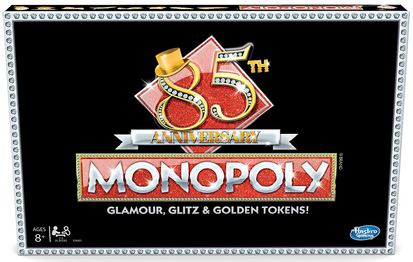 Monopoly 85th Anniversary Edition is a special edition in Monopoly that celebrates 85 years of Monopoly. Monopoly has been in existence for 85 years from 1935 to 2020. In this special edition, players play with luxury. The game items, gameplay, and rules are basically the same. This game can be played with 2-8 players.
Description
Here's the description from Hasbro:
It's glamour, glitz, and golden tokens! Monopoly, one of the world's favorite family gaming brands is commemorating 85 years of success. Join us as we celebrate with the Monopoly 85th Anniversary edition board game. The game features premium packaging and includes 8 golden tokens that represent the good life: A racecar, sunglasses, a yacht, a bowtie, a jet, a helicopter, a wristwatch, and a top hat. Get family and friends together to play the fast-dealing property trading game where players buy, sell, dream, and scheme their way to riches. Three cheers for living the good life of luxury and fun!
Gallery