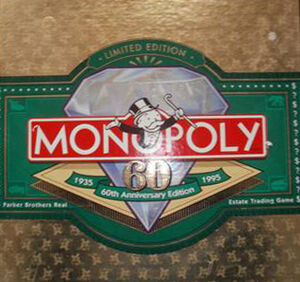 Monopoly: 60th Anniversary Edition (1935-1995) is the 1995 "Atlantic City" edition, published by Parker Brothers to celebrate 60 years of Monopoly.
Publisher's Description
"In honor of the Diamond Celebration of the world's most popular board game, Parker Brothers is proud to present the 60th Anniversary MONOPOLY Game Limited Edition, each numbered and dated for posterity. For the first time in 60 years, we have redesigned the MONOPOLY game board, money, Title Deeds cards and Chance and Community Chest cards to add a nostalgic flavor befitting a classic game from the Thirties. This Limited Edition also features a dice cup designed to look like Rich Uncle Pennybags' favorite top hat, two handsome card trays, wooden houses and hotels, and a handy Banker's tray to hold the elegant new money. We've gone into our archives and selected tokens from a deluxe MONOPOLY game of the 1930's - and added a brand new token of Rich Uncle Pennybags himself! - all in an "antique" bronze finish. All in all, this deluxe anniversary edition is a celebration in itself, and we hope you'll enjoy playing it for the next 60 years."
Gallery